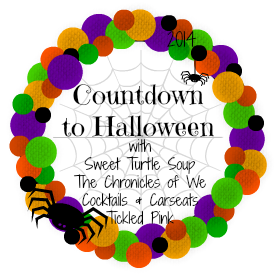 Hey Everyone! I'm so excited to be linking up with Courtney & Aria @ Sweet Turtle Soup for a Countdown to Halloween =)
We kicked our October off right with festive attire ... because why not ?!?!
Here are our Halloween trees that we put up this year. We had the black one last year and we added the orange one this year. I'm obsessed with trees. Halloween Ornaments are a headache to find though. Hallmark had a few out this year and of course disney had some =) Carsyn's Halloween gifts are under the tree that she got to open on October 1st
This is a picture of what she got to open. Just some random things she could use the whole month of October.
We put out our Meadowbrook Gourds (one of my favorite decorations)
We had the Halloween Banner last year (a JoAnn's find) and this year I decided to add some real pumpkins to the mix, rather
than my same old Halloween decor.
I have made the Luscious 4-Layer Pumpkin Cake a few times now and it is hands down one of my favorite desserts. Super easy too.
((Recipe Here))
Carsyn's Bookcase got a little Halloween Spirit added to it too. We were lucky enough to find the Minnie Witch Plush on our recent trip to Disney World... she is just the cutest and my favorite thing on the shelf.
Happy Halloween Festivities to All =)