Friday, July 11, 2014
ONE
We are planning a Walt Disney World Vacation for this fall & I cannot wait to visit the Disney's Days of Christmas Store! I have been eyeing a few different ornaments that I would like to snag up & am just itching for this vacation to roll around. We have less than 3 months until we take off :) Amen!
I also just have to get a Halloween Ornament for my Halloween Tree. As of right now this
Halloween Ornament
has my eye but I am hoping that the store will have more Halloween Ornaments to choose from then the website does.
Last but not least I am going to snag up a more traditional style ornament for my
Circus Tree
. I would like this ornament to be dated. I like
this one
&
this one
. But again, I'm counting on a better selection at the actual store.
TWO
In honor of Christmas in July and also because it's an awesome episode... the babes and I spent one morning watching the Mickey Saves Santa DVD. I highly recommend it. My child is a true Mickey Mouse Clubhouse Junkie.
THREE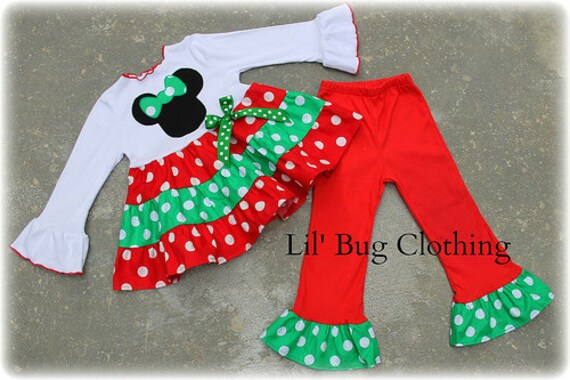 Yes, I am Etsy obsessed. But you have to admit this outfit is to die for. I came across this while doing some clothing ordering for the baby for fall and winter. Found
Here
. I ordered something similar for my niece who is 4 and going to Disney in November & has tickets to
Mickey's Very Merry Christmas Party
.
FOUR
I am debating on picking up a Disney Princess Baby Doll for Carsyn for Christmas. Santa is pulling through and getting her a Bitty Baby Doll but I think these Disney Dolls are absolutely adorable. (A girl can not have too many baby dolls) One of them would make a good gift from Mommy & Daddy. The only problem is... I can't decide which Princess to get.
FIVE
Is this Disney Village by Department 56 just the cutest thing???? If anyone is looking to start a Christmas Village and is Disney obsessed... then look no further. Available
Here
Well I hope everyone has a fun & safe weekend. My husband is off this weekend and in true Michigander style we are heading North :) Cause It's Summertime in Northern Michigan :)
Tuesday, July 8, 2014
Just a little sneak peek into my darling daughter's Christmas List. Yes, we start early around here. Hey... the elves are manufacturing the toys all year so its perfectly acceptable to have a Christmas List in July =)
These are just a few of the things that Santa has picked up for her already. He still needs to find a few odd and end items. I am hoping that they come out with the Frozen Princesses as Little People for her Little People Disney Princess Castle. I also have yet to pick up any play food for her new kitchen. Lots to do and find but I am pretty happy with my start. Any toy suggestions for my little one that will be almost 17 months old on Christmas?