Thursday, October 30, 2014
Friday, October 24, 2014
They have brought back Puppy Surprise!!! Did anyone else have these when they were younger? My sister's and I all had them and were obsessed. I grabbed one of these the other day for Carsyn for Christmas. I hope she loves it just as much as I did. My fingers are crossed for a litter of 5... we will see come Dec 25th =)
TWO
Last weekend we went to Blake's Apple Orchard to pick out a pumpkin and indulge in cider & donuts. We had a really good time but it was super cold so all the baby wanted to do was sit in her stroller under her blankets. (Wish she did that at Disney) we went through the corn maze, explored the haunted house, fed animals in the petting barn and bounced a little bit in the bounce house. Orchards have got to be one of the best parts of Fall =)
THREE
This weekend (Saturday) we have tickets to the Greenfield Village Halloween Event. We are going with my sister & her family. It starts at 7pm so we are planning a dinner at PF Chang's before. I'm pretty excited. We have always done Greenfield Village at Christmas time so the Halloween Event will be something new to us. I have heard that it's a good one. Carsyn is dressing up so I'm looking forward to that too. Let the fun begin =)
FOUR
Wednesday & Thursday we went looking for furniture for the basement. We have been working on finishing our basement and figured the furniture would take a few weeks to come in so we went to order it. Well... it will be to our house on Wednesday. Hmmm. That will definitely give us a swift kick in the booties to prepare. =) I am very happy with the furniture we chose and think it will accent the log walls nicely.
FIVE
Did anyone watch the Melissa and Joey Season Premiere/Halloween Episode on Wednesday??? My hubby and I LOVE this show and are so happy it's finally back on. If you haven't watched it, it's on ABC Family on Wednesday Nights. These two seriously have the best onscreen chemistry.
Hope everyone has a Safe & Festive weekend!!!!
Tuesday, October 21, 2014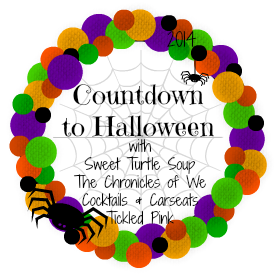 Hey Everyone! I'm so excited to be linking up with Courtney & Aria @ Sweet Turtle Soup for a Countdown to Halloween =)
We kicked our October off right with festive attire ... because why not ?!?!
Here are our Halloween trees that we put up this year. We had the black one last year and we added the orange one this year. I'm obsessed with trees. Halloween Ornaments are a headache to find though. Hallmark had a few out this year and of course disney had some =) Carsyn's Halloween gifts are under the tree that she got to open on October 1st
This is a picture of what she got to open. Just some random things she could use the whole month of October.
We put out our Meadowbrook Gourds (one of my favorite decorations)
We had the Halloween Banner last year (a JoAnn's find) and this year I decided to add some real pumpkins to the mix, rather
than my same old Halloween decor.
I have made the Luscious 4-Layer Pumpkin Cake a few times now and it is hands down one of my favorite desserts. Super easy too.
((Recipe Here))
Carsyn's Bookcase got a little Halloween Spirit added to it too. We were lucky enough to find the Minnie Witch Plush on our recent trip to Disney World... she is just the cutest and my favorite thing on the shelf.
Happy Halloween Festivities to All =)